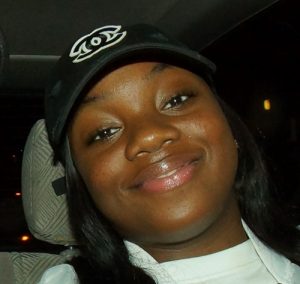 Name

Young Devyn

Nationality

United States

Leagues

Spittin In Da Wip

Seasons

2017 T.Points, AUG 2017
BIO:
Devyn Ashli Millicent Tyson was born on Dec. 28, 2001 she came out ready to be a "STAR". Blessed
with a great pair of lungs, Devyn has always had a tune in her head and a song in her heart. When Devyn was 2 yrs old she became very sick and almost died but through it all she hummed her way back to life.
The doctors and nurses couldn't stop talking about the little girl in ICU that hums all day and all night.
At age 5 she was asked to sing at her "Step up Ceremony" and even though it was a school song she left everyone in amazement. Singing became her passion, her best friend, her everything.
Growing up in a typical Trinidadian household Devyn was exposed to all facets of music. She would listen to her grandmother sing ole time calypsos like Gene & Dina, Suga Bum Bum and others. She was also exposed to gospel music at an early age. Since both of her aunts and uncles are ministers singing to the Lord came natural. Devyn has embraced her Trinidadian/American culture to the fullest and loves toperform songs from both sides of the world. Her favorite soca artist is Patrice Roberts and her favorite
pop artist is Beyonce.
Devyn is a straight A student and has been in the gifted and talented program since kindergarten. She has also been on the honor roll for the past 3yrs. Devyn loves to read, write, dance and of course sing. She is a very honest, loving and gracious child.
In her spare time she loves to write her own music and hopes to record her own song. She's very excited to see what the future has in store for her, but in her own words to me she says "If this music thing doesn't work out for me I'm still gonna be the first African American Woman President"!
the first African American Woman President"!
SIDW Competition Results
| Month | Content | Delivery | Skill | Stamina | Free | Avg | App | Wins | Pts |
| --- | --- | --- | --- | --- | --- | --- | --- | --- | --- |
| 2017 T.Points | 8.83 | 9.75 | 9.15 | 9.13 | 0 | 7.37 | 1 | 0 | 36.86 |
| AUG 2017 | 8.83 | 9.75 | 9.15 | 9.13 | 0 | 7.37 | 1 | 0 | 36.86 |