Dressed in black and often seen flashing his million-dollar smile,
The Farrow puts a new twist on the classic "charming bad boy"
character that the girls always fall for and the guys always want
to be. For as dark as his wardrobe may be, he's got both eyes
firmly fixed on his luminous future. So what does the future look
like for this bad boy, songwriter, and rapper? Well, it's just as
bright as he is…
Raised in Minneapolis, MN, The Farrow made the decision to
move west to Los Angeles, CA, because of its fruitful music
industry. This is where he started to develop and hone his own
peerless style. For the freshman artist, the "LA scene" wasn't
nearly as important as creating. He missed more than a few
parties at The W Hotel so he could write and record at his modest
studio on the outskirts of Hollywood. A year into his time in Los
Angeles, The Farrow was connected with his now full time
manager, Mike Wight; and made the leap from LA to The Big
Apple.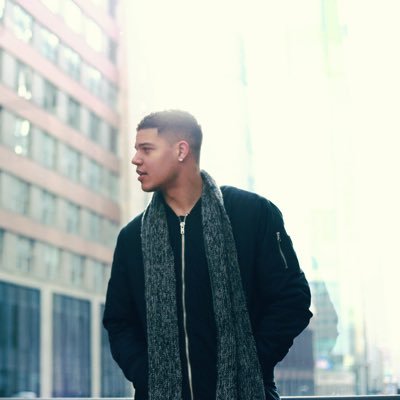 The next chapter is already unfolding. 2015 saw The Farrow
complete his first regional tour, selling out shows in Riverside,
Corona, Los Angeles and more. Looking more like Drake's evil
twin than a standard MC, he stirred up a frenzy amongst the
heavily female crowds, dodging a bra or two from the stage on a
nightly basis. From the overwhelming success of his tremendous
worth ethic, The Farrow eventually signed to Johnny Descartes'
and Eli Massillon's production company in New York City. They
saw the potential The Farrow has to be a superstar and are doing
whatever they can to help him get there; including taking him to
Grand Master Flash's famous recording studio, where they turned
The Farrow loose to do what he does best, create.
The support has only grown more fervent. It seems the critics
are in agreement with Johnny and Eli, with reputable blogs like
Digital Dripped making statements like "The Farrow is one of the
most deserving and appreciative artists I've ever worked with
and he has all of the potential to be one of the best in the
game." With his unparalleled work ethic and humble nature, the
ladies favorite bad boy is sure to continue to rise into stardom.

November 2015 episode http://www.spittinindawip.com/farrow-spits-bars-in-da-wip-onlythefarrow/
SIDW Competition Results
| Month | Content | Delivery | Skill | Stamina | Free Bonus | Avg | Apperances | Wins | Pts |
| --- | --- | --- | --- | --- | --- | --- | --- | --- | --- |
| Nov 15 | 5.8 | 8.8 | 7.9 | 7.5 | 2.7 | 6.5 | 1 | 0 | 32.70 |