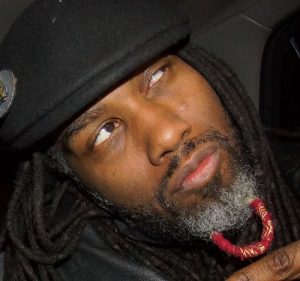 Name

D.Cross

Nationality

United States

Leagues

Spittin In Da Wip

Seasons

2017 T.Points, Feb 2017, Mar 2017
Derick Cross aka D. Cross is a multi dimensional visual & performance artist who creates imagery in order to reach deep inside the viewer of his artwork,
Cross is a native of Queens New York who has residied in Brooklyn,N.Y for the past 17 years. .He works in a variety of media including acrylics , oils, & polymerclay .D.Cross' work has been
shown through out the New york metropolitan area as well locations nationally (Atlanta)& internationally (Sweden& Brazil )
His work is part of the collections of Erykah Badu(Singer),Ed Lewis(Founder of EssenceCommunications),Ruby Dee(legendary actress) Judith
Jamaison(Alvin Ailey director&Legendary Dancer &choreographer) and Bashiri Johnson (World renownedPercussionist & music producer) among others.
He is the Art Director of African Voices Magazine .As a performance artist he combines the art of Spoken Word(poetry), Vocal Percussion(beatboxing) and Hip-Hop(emceeing/rap), making music to ears of listeners everywhere.Cross has performed in venues nationally and internationally, including Madison Squaure Garden,SOB's, BB Kings,The Apollo ,Carolines and Lincoln Center's Avery Fisher Hall a
D-Cross has been featured on Nickelodean ,TV Land ,MTV,BET's 106's andPark and the Electric Company. He was also selected as a performance poet for HBO's DefPoetry Jam in March 2003 Mr. Cross is also an Arts Educator who has worked extensively with young people .
Specialties
Fine Arts, Illustration ,Painting,Scuplture ,Art education. Poetry , Performance Art (vocal artistry)
For more info on D.Cross visit his Facebook Page
Spittin In Da Wip
| Month | Team | Content | Delivery | Skill | Stamina | Free | Avg | App | Wins | Pts |
| --- | --- | --- | --- | --- | --- | --- | --- | --- | --- | --- |
| Feb 2017 | | 0 | 0 | 0 | 0 | 0 | 0 | 0 | 0 | 0.00 |