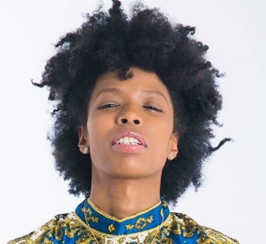 Name

She Real

Nationality

United States

Leagues

Spittin In Da Wip

Seasons

2017 T.Points, AUG 2017
Since 2012 She Real has been performing and consistently putting out original music. On Jan 1, 2017 She Real dropped her sixth mixtape entitled "Real Hip Hop Still Exists 3". Continuously working; she has been on Sway in the Morning twice, featured in XXL, Hot 97's Elite 8 cypher, was featured in Respect Magazine, and Hip Hop Weekly. Notably, She Real collaborated with Loaded Lux, Fred the Godson, and Babs Bunny establishing herself amongst New York underground Hip Hop heavyweights.
She Real has won countless competitions from SOBs, to being a 3 times consecutive $1000 grand prize winner at Club Pyramid, 2 time $1000 Hip Hop Seazon winner, as well as a The Bar Exam: Atlanta's Definitive Open-Mic Competition and Showcase winner. She has also had the opportunity to open up for artists such as Juelz Santana, Styles P, Tone Trump, has been on college tours, an official performer at SXSW and more.
She Real works really hard to make her dream a reality and takes none of her opportunities for granted. Internationally She Real has appeared as a featured performer in Paris, France four times. From the "Ready Or Not" Hip Hop competition to DJ Idem's set at the L'ETAGE "Bless Paris" event, to "Ready Or Not" album release concert at Le Place and after party at Nouveau Casino. She has also appeared as a featured performer for CloudFest in Toronto, Canada.
SIDW Competition Results
| Month | Content | Delivery | Skill | Stamina | Free | Avg | App | Wins | Pts |
| --- | --- | --- | --- | --- | --- | --- | --- | --- | --- |
| 2017 T.Points | 9.2 | 9.78 | 9.23 | 9.55 | 0 | 7.54 | 1 | 3 | 37.76 |
| AUG 2017 | 9.2 | 9.78 | 9.23 | 9.55 | 0 | 7.54 | 1 | 3 | 37.76 |